OUR DICOM VIEWERS FOR VETERINARY MEDICINE
Our Alma VET DICOM viewers are designed to visualise and evaluate veterinary images obtained by conventional radiography, ultrasound, CT and MRI.
Use the 2D tools offered by our viewers or implement 3D treatment and MPR modules for more advanced analysis. Integrate your viewer into your veterinary practice management system or Alma HEALTH PLATFORM platform and define a flexible, fast and efficient workflow.
Lightweight

, cross-platform web viewer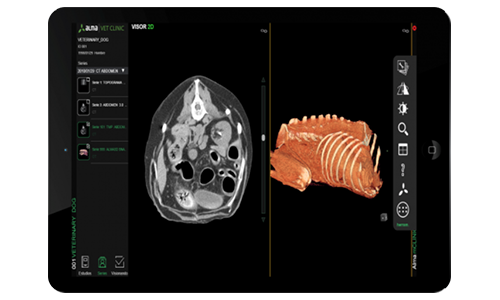 Our lightweight, cross-platform web viewer, accessible from any connected device, provides you with basic diagnostic and surgical planning tools and an advanced history-integrated browser.
Intuitive, attractive and customisable interface
Powerful, fast and precise
Tool for diagnosis and surgical planning
Advanced viewer

for radiological assessment and pre-surgical planning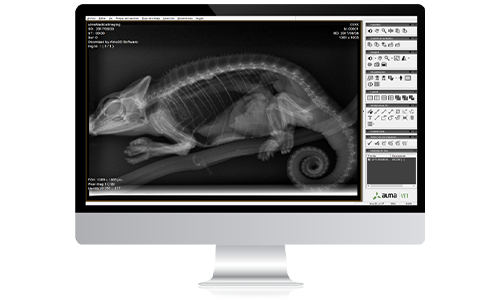 Our advanced veterinary viewer, designed for radiological assessment and pre-surgical planning, provides you with tools for veterinary image analysis and assessment, series synchronisation and comparison with previous scans.
Zoom, translation and W/L
Annotations (measurements, angles, ROIs, comments, etc.)
Exporting and capturing images
Includes multiplanar reconstruction (MPR) and 3D tools
Multiplanar reconstruction viewer(MPR) to simultaneously visualize axial, coronal, sagittal and oblique views and use them to obtain sections of the 3D model from any plane in a fully interactive way.
Apply the palette libraries available in the viewer and control the slice thickness to work with MIP, MinIP, AvgIP and VR reconstructions.